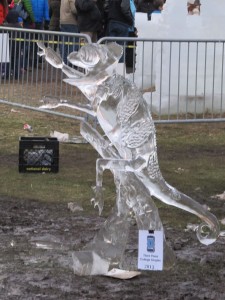 If you live in the Plymouth, Michigan area, you know how cool the Plymouth Ice Festival is.  If you are considering moving to the Plymouth, Canton, and Northville area, you need to know how cool the Plymouth Ice Festival is!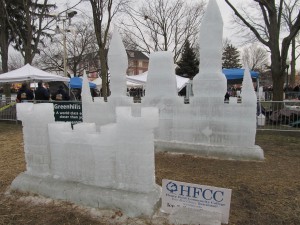 The 2012 Ice Festival showed off some incredible talent in the world of ice carving.  The temperatures were way down there – it was bitterly cold on day one – and the carvings were phenomenal.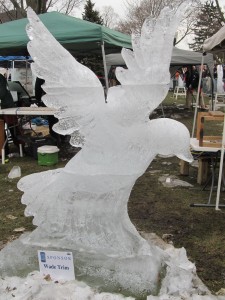 The 2013 Ice Festival got off to an interesting start with day one and two of the event hovering in the mid-40s.  This made the ice tricky to work with, but the skilled artists worked through it to create some fantastic pieces.  Day three of the event was bitterly cold, with about a 20 degree drop in temperature.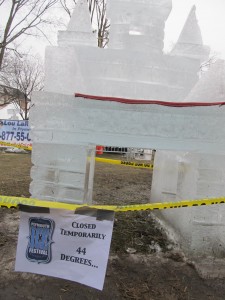 Yes, it's Michigan.  Some folks say you can expect 75 degrees one day and snow the next.  Some say if you don't like the weather, wait an hour because it will change.
So the 2013 Plymouth Ice Festival fell on one of those weekends where we got a mixed bag.  By the time Saturday afternoon rolled around, the beautiful creations were … well, … dripping.  Even big slabs of solid ice can't withstand the warmer temperatures.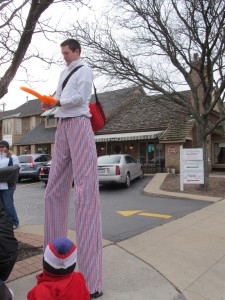 The additional activities in Kellogg Park kept everyone busy, too.  Sun & Snow created a cross country ski facility – with real snow – and allowed anyone who wanted a chance to give cross country skiing a try.  They hauled out all sizes of skis and equipment and there was always a crowd waiting to start.    A downhill ski/board challenge was set up in the parking lot behind the shops on Forest Avenue.  And, of course, concession food (and those yummy smells) rounded out the fun.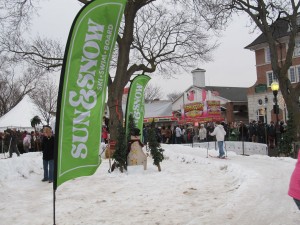 Although the 2014 Festival dates have not been officially set yet, we are marking our calendars for next January to make sure we don't miss a thing.  Just another fabulous event in a fabulous community.  So glad to be a part of this great place!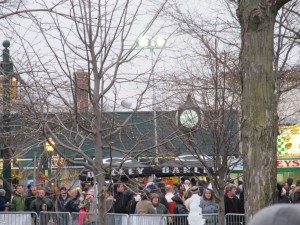 The Bittinger Team
If you are thinking of buying or selling a home in southeast Michigan, give us a call and we can help you explore your options and get underway.  Never an obligation.  No one knows the local real estate market like The Bittinger Team does!
LIKE us on Facebook at Living In Plymouth/Canton/Northville Communities to stay on top of what is going on in our communities as well as in the local real estate market.  LIKE us at Michigan Homes Coming Soon, too, to learn about homes before they hit the market – so you can be first through the door!