With Easter just a few days away, it's hard not to think of CHOCOLATE!  So this week we welcome guest blogger Laurie Wooderson to tell us about her local business, Bark Avenue Chocolates of Northville.
In Her Own Words
I am Laurie Wooderson, a long-time Northville resident.  I have been creating bark and other custom chocolates as a hobby for 15 years. The recipients of my bark at holiday time (pastors, doctors and DDS) would always encourage me to just start a chocolate business.
I left Corporate America last September after a long and successful career in the travel industry and decided the time was right to jump in with both feet. The timing was also right for my sister, Stacie May, who is my side kick in this endeavor.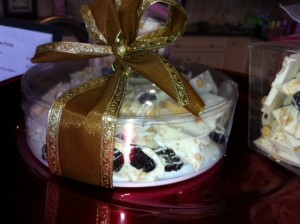 Wanting to "kick the tires" and see how the chocolate bark is received in the community without jumping in to a long-term lease, I  came to an agreement with Long's Kitchen & Bath Showroom to use their front kitchen to display and sell my chocolates. I have felt the love from Northville and many corporate holiday orders.
We offer custom chocolate bark with a WOW factor. I turned the model upside down with edgy ingredients and put the chocolate on the bottom with the ingredients on the top. We source many fresh ingredients from Michigan like dried cherries, blueberries and cranberries. Our goal is to deliver the highest quality, most elegant chocolate delights with a WOW factor.
Our number one seller is in our Gentleman's line and consist of dark chocolate with maple syrup covered almonds and bacon!  Breakfast in a box! Our Signature line consists of White Chocolate with roasted cashews and Michigan dried cherries. We have many different exotic flavors in our series.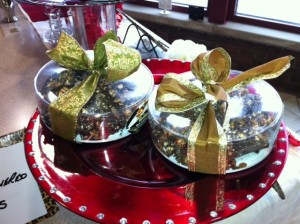 Weddings
We catered a  wedding last December where the bride wanted S'more Bark so, we created Milk Chocolate Bark with Graham Crackers and mini Marshmallows, packaged in 2 oz. bags with round stickers that said, "S'more Love" and the bride and groom's name and date.
We have elegant wedding and event Chocolate Covered Oreos for special orders. Our price point is very competitive and our packaging is very elegant and ready for gift giving.
Where to Find Bark Avenue Chocolates
You can find Bark Avenue Chocolates at our flagship store at 190 E. Main Street, Northville in Long's Kitchen & Bath. Th. 10a-7p, Fr. 10a-6p & Sat. 9a-3p; Unique Gifts 15374 Haggerty Road, Northville,  M-S 9a-9p Su. 10a-6p; Defining Image Salon 1360 S. Main Street, Plymouth Tue-Sat; The Vines Florist 33245 Grand River Avenue, Farmington Mon-Sat. 9a-6p.  And, on Facebook at Bark Avenue Chocolates or at barkavenuechocolates@yahoo.com.
We invite you to ditch the pie or cake and break bark with you friends and loved ones!
Our Bark is worth the bite!
Where to Find US!
As always, we are grateful to Laurie and to all of our guest bloggers who help us celebrate living in Plymouth, Canton and Northville!  If you have a business, event, or other great local story to feature on our blog, please email maria@bittinger.com to get started!
Our door is always open, so please do not hesitate to contact us if you are considering buying or selling a home.  With almost 30 years in the business, no one knows the local real estate market like we do here at The Bittinger Team!
LIKE us on Facebook at Living In Plymouth/Canton/Northville Communities!
LIKE us on Facebook at Michigan Homes Coming Soon!