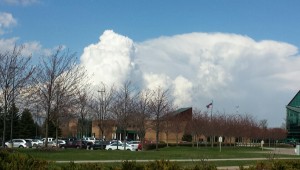 Yes, it's the dead of winter here in southeast Michigan. But, at least this weekend, that doesn't mean you have to shut yourself indoors and hide under a blanket! We are expecting exceptionally warm weather this weekend – perhaps kissing 60 degrees! – and that is a great reason to step outside and get reacquainted with what our communities have to offer us every day. Here are 5 fun things to do on a February Sunday in Plymouth, Canton, and Northville!
1. Stroll
Right! Just get outside and take a walk. Whether it's your own neighborhood, an area park like McClumpha (Plymouth Township Park) or Heritage Park, or beautiful downtown Plymouth and Northville, the fresh air will do ya good AND you'll get a friendly reminder of the beauty and charm we have right here under our fingertips.
2. Attend to Some Practicalities
Some of you will question why we call this fun, but for those of you who like to make sure everything is a-ok on your property, you might find this to be reassuring, even if not "fun" exactly. Take a walk around the outside of your home. Check for shingles that may have flown off during Thursday's wind storm or siding that may have become detached. If you have outdoor items on your deck, patio, or yard, get things back where they belong. Take a look at your yard and collect any stray sticks or debris. You can even put this on the kids and see who can pick up the most! Then, treat yourself with a little something from #3 below!
3. Treat Yourself
An unexpectedly warm, sunny day in February is a great time to visit one of the many wonderful shops in the area that sell yummies. You know what we mean: cupcakes, chocolate, sweets, tea, decadent coffee, froyo, and the list goes on. Whether it's a well-earned treat or simply a reason to get out, you'll find all your faves in downtown Plymouth and downtown Northville, as well as many great locations in Canton.
4. Catch a Game
Hockey, that is. The USA Hockey Arena (formerly Compuware Arena) is the home of the USA Hockey Development Program and offers excellent hockey at very affordable prices. We host the Muskegon Lumberjacks at 2:00 on Sunday. Click here for tickets and info.
5. Catch a Flick
This weekend at The Penn, see Spotlight, with Mark Ruffalo and Michael Keaton. Shows on Sunday at 4:15 and 7:00 pm. Tickets are just a few dollars per seat and the beautiful, historic venue right in downtown Plymouth is spectacular! Conveniently located next to Kellogg Park with all of its area shopping and dining. Make an afternoon or an evening of it!
And, if you're feeling that change is in the wind, contact us! We are always happy to talk to you about buying or selling a home. It's a hot market right now, but we know how to make it work for you. We are owner-operated and our goal is to cater every home buying or selling experience to be exactly what you – our valued client – needs it to be. You have our word on that! Contact us any time at 734.459.2600 or team@Bittinger.com.
Until next time,
Noel
EXPLORE our website:  www.Bittinger.com
LIKE us on Facebook at Living In Plymouth/Canton/Northville Michigan to stay abreast of the local real estate market and to celebrate these communities with us!
LIKE us on Facebook at Michigan Homes Coming Soon to learn about the hottest new listings … sometimes before they are even on the market!