One of the wonderful, annual community events here in Plymouth Michigan is the Walk of Trees in Kellogg Park. Not only is it an excellent way to be involved in the community, it also provides a little holiday spirit to the downtown area (which is already got a ton!) and beautifies the park as well. We've got a few photos here, but there is nothing like taking the walk for yourself and savoring the creativity and message that each tree delivers.
Walk of Trees in Downtown Plymouth
About 75 trees are placed in Kellogg Park in downtown Plymouth for this event. The trees are sponsored by local families, organizations, and businesses who decorate them however they choose, typically with a theme in mind. And you won't believe some of the creative stuff you will see! The trees are lit 24-hours a day from the Saturday after Thanksgiving to New Year's Day, and you definitely won't want to miss seeing them at their best.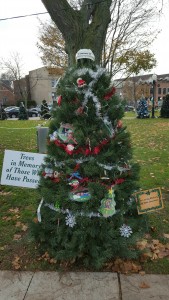 The Walk of Trees is fun. It gets us into the spirit of the season. And, it's healthy to be out in the fresh air! Couple the visit to the park with a delicious meal in one of the DTP restaurants, a little shopping in the wonderful, locally-owned shops, or even a flick at the historic Penn Theatre and you have yourself a great day or night out!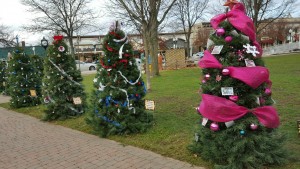 The Walk of Trees program is brought to us by the Plymouth Community Chamber of Commerce – a truly wonderful organization that supports this great community all year round! Learn more about this program and how you or your organization can sponsor a tree HERE.
Keep Us in Mind This Holiday Season
Should house hunting or selling your home cross your mind, please know that we are here for you when you need us.
Please contact us anytime if we may be of assistance to you at 734.459.2600 or team@Bittinger.com.
Till next time,
All of us here at Bittinger Team, REALTORS®
EXPLORE our website:  www.Bittinger.com
LIKE us on Facebook at Living In Plymouth/Canton/Northville Michigan to stay abreast of the local real estate market and to celebrate these communities with us!
LIKE us on Facebook at Michigan Homes Coming Soon to learn about the hottest new listings … sometimes before they are even on the market!