It truly is the most wonderful time of the year, isn't it? Even though there isn't a flake of snow to be seen anywhere on the short- (or long-) range forecast, we can't help but have a little spring in our steps during the month of December – so much to do and so much to enjoy in Plymouth, Canton, and Northville! One thing that you might like to add to your event calendar is to see a local production of The Nutcracker Ballet, featuring talented dancers from Plymouth, Canton, and other parts of southeast Michigan.
This is a production of the Livonia Civic Ballet Company and features local talent, including several dancers from right here in Plymouth and Canton! Tickets are available at the door. Just $16 for adults, $14 for seniors/students, and $12 for children. Purchase advance tickets for slightly less by calling 248.474.8722.
Saturday, December 12, 7:00 p.m.
Sunday, December 13, 2:00 p.m.
Carli Auditorium, Churchill High School, 8900 Newburgh Road, Livonia
The Story of the Nutcracker
Yes, there really is a story behind this ballet! Learn all about this traditional holiday tale by CLICKING HERE. It is based on a magical story written by E.T.A. Hoffman and set to the music of the legendary composer, Tchaikovsky. The story is set around a young girl who receives a nutcracker at her family's Christmas Eve party. She later dreams of him coming to life and their battle with the evil Mouse King, followed by a magical visit to the enchanted Land of Sweets and encounter with the Sugar Plum Fairy. This story, and this performance by LCBC, is truly a delight for all ages. And, so affordably priced that you can bring the whole family!
About the Livonia Civic Ballet Company
The LCBC was incorporated in 1974 as an educational and performing arts organization. It was designated by mayoral decree to be the official ballet company of Livonia, Michigan in 1996! The members of the artistic staff hold numerous degrees and certifications in dance and welcome dancers from all studios and area communities. Known for their annual production of The Nutcracker Ballet, the LCBC is grateful for the support of the community and they welcome your inquiries. Donations are sincerely appreciated! Please contact LCBC through their Facebook page, Livonia Civic Ballet Company.
Here's a sneak peek!  Don't they make it look easy?!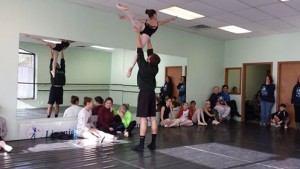 Whatever you have lined up on your calendar this month, we hope it brings you joy and good cheer. And, should house hunting or thoughts of selling your home appear on your to-do list this weekend, know that we are here for you when you need us.
Please contact us anytime if we may be of assistance to you at 734.459.2600 or team@Bittinger.com.
Till next time,
All of us here at Bittinger Team, REALTORS®
EXPLORE our website:  www.Bittinger.com
LIKE us on Facebook at Living In Plymouth/Canton/Northville Michigan to stay abreast of the local real estate market and to celebrate these communities with us!
LIKE us on Facebook at Michigan Homes Coming Soon to learn about the hottest new listings … sometimes before they are even on the market!