One of the very best and most fun days in our calendar year is the day we give away a truckload of pumpkin pies! Yes, we really did say that! It's just another little perk of working with us when it's time to buy or sell a home. We invite all of our past and current clients throughout Plymouth, Canton, Northville and beyond to enjoy a huge, delicious (and complimentary) pumpkin pie just in time for Thanksgiving … on us!
Just SOME of the pies we gave away are shown above with Lee and Noel. We absolutely loved handing these out to our clients who took us up on our offer and reserved theirs in advance. And, we got to show off our beautiful, new office located on the east side of Canton Center Road, just north of the Speedway gas station at Ford Road in Canton Michigan. SEE ALL THE PICS HERE!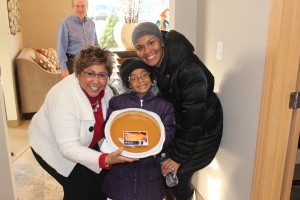 The best part of it all was reconnecting with all of the wonderful people we have served over the years. It's because of you all that we have been doing what we love since 1983. And still going strong!
We hope you had a wonderful Thanksgiving with the people you love and wish you more of the same as you celebrate in December.
If we may be of service to you at any time, know that we are just a phone call or click away! 734.459.2600 or team@Bittinger.com
The Market Favors Sellers Right Now!
Don't be fooled – the holidays are an excellent time to sell a home. After all, it's decorated so beautifully and everyone is feeling the spirit of the season. Besides, only very serious buyers are in action right now, so you know that you won't have people "just browing" and that every showing is one that could be "the one."
Click here for a fast, free and easy online home evaluation or click here for all the resources you need to make sure your home sells for more money in less time. Contact us and we can talk about a strategy to sell your property during the holidays.
Till next time,
EXPLORE our website:  www.Bittinger.com
LIKE us on Facebook at Living In Plymouth/Canton/Northville Michigan to stay abreast of the local real estate market and to celebrate these communities with us!
LIKE us on Facebook at Michigan Homes Coming Soon to learn about the hottest new listings … sometimes before they are even on the market!