Today, April 2, 2014, is the American Heart Association's
National Walking Day!
With the sun shining as brightly as it is today, what should we do with this information? Well, we should take a walk, of course.
And there are many places in Plymouth, Canton, and Northville Michigan that are just calling out to us.  Here's a short list of great places to take a walk today, or any day!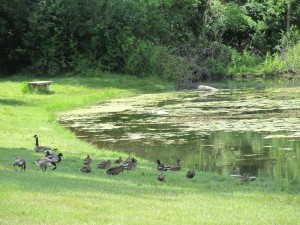 1.  McClumpha Park in Plymouth Michigan. It's officially called "Plymouth Township Park" but the locals call it McClumpha.  With it's winding  trails and beautiful, natural scenery, it's a great option.  Bring a lunch or snack and let the kids play on the playscape while you're there.
2.  Plymouth Community Parks.  Check out all the parks in Plymouth Michigan by clicking here!
3.  Downtown Plymouth or Downtown Northville. These two downtown areas are just plain wonderful places to be.  The interesting architecture and pretty landscaping make them a natural choice for walkers.  And, you can go as far as you want, or just go in circles.  You might discover a new shop or restaurant to check out, or you might even lay eyes on the house you will fall in love with and one day call home!
4.  Northville  Community Parks.  There are lots of them!  Check out all the parks in Northville Michigan by clicking here.
5.  Heritage Park in Canton Michigan.  This lovely spot is adjacent to The Summit on the Park recreational facility and the Canton Public Library.  The path around the pond amounts to .84 of a mile so it's not too big of a commitment.  Of course, you can veer off the path and go ALL THE WAY around the park if you need a longer route.
6.  Maybury State Park.  Yes, we really do have our own state park right here.  And it's excellent.  Check out the details by clicking here.
6.  The Mall.  Seriously, we did just say that.  Maybe sunshine and warmer temps just aren't for you and you like the people watching or window shopping that comes with a mall walk.  Go for it!  Laurel Park Place is great for this!
7.  Pick a 'hood.  We are so lucky to have great neighborhoods in this neck of the woods.  Click here to check out the local neighborhoods and take a stroll through them.  You might meet an old friend, a new friend, or find your dream home.
Most importantly, bring along a friend and celebrate National Walking Day together!
Till next time,
EXPLORE our website:  www.Bittinger.com
LIKE us on Facebook at Living In Plymouth/Canton/Northville Michigan to stay abreast of the local real estate market and to celebrate these communities with us!
LIKE us on Facebook at Michigan Homes Coming Soon to learn about the hottest new listings … sometimes before they are even on the market!